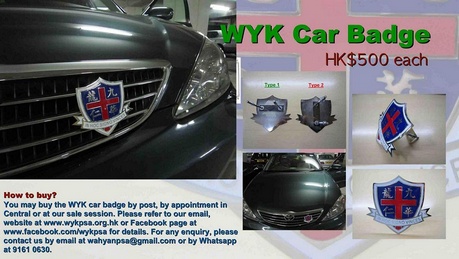 WYK Car Badge is available for sale now! If you are a Wahyanite, definitely you should get one!
The price of each WYK Car Badge is HK$500. You may purchase the Car Badge by one of the following ways:
By post
Please deposit the relevant amount of monies equivalent to the price of the Car Badge to the HSBC bank account of WYKPSA (Account no.: 808024525001) and send an email to WYKPSA at [email protected], attaching a copy of the pay-in-slip and setting out the type of Car Badge (Type 1 / Type 2 – please refer to the poster), your mailing address and your contact phone number. Purchases from alumni living overseas are also welcome!
By appointment in Central
A lot of the Exco of WYKPSA work in core Central (i.e. The Landmark and nearby buildings) and have stocks of Car Badge being kept in their office. You may send an email to [email protected] or a Whatsapp message to 9161 0630 to arrange for purchase of the Car Badge in Central.
At our sale session
WYKPSA will hold a sale session on 12 September 2013 (Thursday) at 7 pm – 10 pm at Lingnan Club (嶺南會所), 13/F, On Lok Yuen Building, 25-27A Des Voeux Road Central, Central, Hong Kong (just next to World Wide House). You may come to our sale session to buy the Car Badge at the spot.
If you have any enquiries, please contact us by email at [email protected] or by Whatsapp at 9161 0630.
We look forward for your support!
Please also consider getting a WYKPSA Tie (Price: HK$190 each), a Golden Tie Pin (HK$180 each) and a Wallet (Price: HK$230 each)! Photos of the aforesaid products are available on our website at http://www.wykpsa.org.hk/purchase-of-wykpsa-products. Those products are still available for sale now.