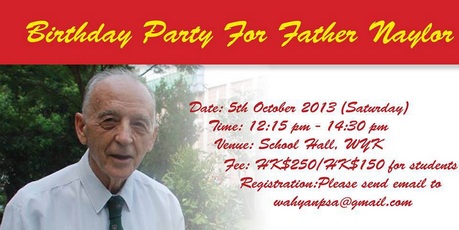 The 82nd birthday of Fr. Naylor is coming! This year is also Fr. Naylor's retirement after teaching From 3 English & Ethics in WYK for over forty years.
WYKPSA will organize a birthday party for Father Naylor, details of which are as follows:
Date : 5th October 2013 (Saturday)
Time : 12:15 pm – 14:30 pm
Venue : School Hall, WYK
Fee : HK$250 each / HK$150 for full-time students (including university/college students).
The price includes the birthday cake and a birthday gift for Father Naylor.
For registration and enquiries, please email to [email protected].
We look forward to seeing you at the birthday party of Fr Naylor !