Let's have a great show in the football field!
Imagine! A place where we once had our fun during our school life, a place where we had our P.E. lessons, a place where the Walkathon 2007 & 2009 of our alma mater began – the main football field of our alma mater – now it will become a venue of a pop concert!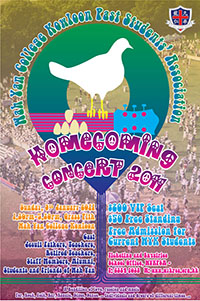 Leveraging on our success in the Homecoming Concert held in 2008 & 2009, our association has determined to accept new challenge and make new change this time. Going to be held outdoor in the open area under the gentle sunlight and breeze – we aim to offer to our alumni a new, unique and amazing experience. It is not only an opportunity to have fun and a relaxing afternoon, but it also offers a precious chance to meet and gather with your ex-classmates, the teachers and the current students, and to have a look to the ever-changing campus of Wah Yan College Kowloon.
With the theme "POP", the performers of this innovative event will show their talents in the state-of-the-art pop music on 9 January 2011 (Sunday) from 1:30 p.m. – 5:30 p.m.
All current students of WYK will be admitted to the event free of charge. In light of the aforesaid, the support from the alumni will be crucial.
We take this opportunity to appeal for your support to the show. Your attendance and/ or sponsorship to the show will not only endorse the hard work of the organizers and performers but also benefit the function variety and sustainability of our association. Attached please find our ticket booking/ sponsorship form, act now and let's come back to school!
All alumni are also welcome to participate in the performance of the show. For those who are interested in showing your talents at the show, please contact Everett Chui by email at [email protected] or by phone at 9026 7079.
If you have any other enquiries, please contact Connie Chu by email at [email protected] or by phone at 2193 5303.