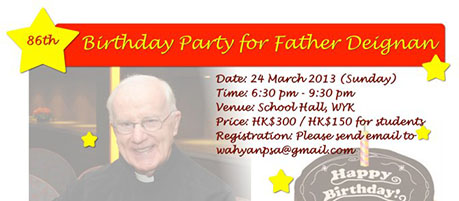 The 86th birthday of Father Deignan is coming! This year is also the 60th anniversary after Father Deignan comes to Hong Kong!
WYKPSA and WYHKPSA will jointly organize a birthday party for Father Deignan, details of which are as follows:
Date: 24 March 2013 (Sunday)
Time: 6:30 pm – 9:30 pm
Venue: School Hall, WYK
Price: HK$300 each / HK$150 for students (including university students). The price includes the birthday cake and a birthday gift for Father Deignan
For registration and enquiries, please send an email to [email protected]
We look forward to seeing you at the birthday party of Father Deignan!