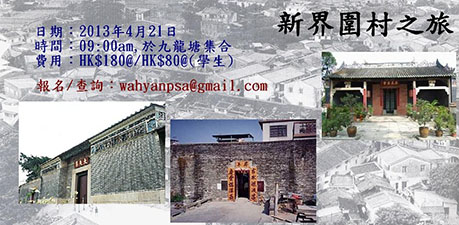 WYKPSA is going to organize a tour to visit the walled villages in New Territories (新界圍村之旅), please find details as follows:
Date: 21 April 2013 (Sunday)
Time: 9:00 am – 5:00 pm
Gathering point: Exit F, Kowloon Tong station (港鐵九龍塘站F出口). Coach will be arranged.
Fee: HK$180 for adults/ HK$80 for students (lunch and transportation included)
Route: 九龍塘出發->屏山文物徑->吉慶圍->屏山傳統盤菜->大夫第->廖萬石堂->回程
We are now liaising with our retired teachers to join the tour. Up to the date hereof, Mr. Yue Poon Leung, our former vice principal, has expressed his interest to join the tour.
ALL ARE WELCOME! You may also bring your family members and friends.
For those who are interested, please send an email to [email protected] for registration.
If you have any enquiries, please contact Chris Li (WYK '07) at 9803-9691.