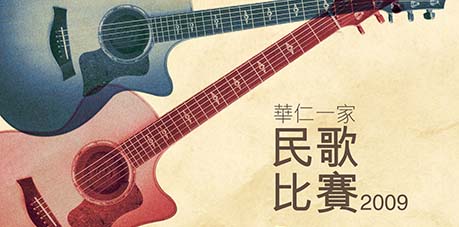 Folk music had been the prevailing music in the 70-80's, when many Wahyanites have enjoyed the acoustic sound and collaboration with fellow schoolmates. To rekindle the culture of traditional music in the two Wah Yan and among alumni and friends of Wah Yan, the Foundation will jointly organise a Folk Music Gala with the Past Students' Associations of Wah Yan Hong Kong and Wah Yan Kowloon on 30 August 2009. This Gala, in the form of a Singing Contest, will draw many of our music lovers to showcase their talents again on stage.
Date and Time  Sunday, 30 August 2009, from 2:15 – 6:45pm
Venue  Jockey Club Auditorium, Hong Kong Polytechnic University, Hung Hom, Kowloon
Adjudicators  Mr. Albert Au 區瑞強, Rev. Ciaran Kane, S.J., Mr. Edwin Cheung (WYK69), Mr. George Tam, Dr. John Tan (WYHK81) and Mr. J B Lam
MC and Special Performance  MC‧Michael Leung Kai Cheung 梁繼璋 (WYHK73); Special performance‧Ms Sarah Lee 李麗蕊
Rules  All Wahyanites are eligible to take part. 30 entries are allowed for the Qualifying Round, of which 15 teams will be selected as finalists. Multiple entries allowed but each team must comprise at least one Wahyanite (maximum 7 people per team). The enrolment fee is HK$3,000 per team, including 10 admission tickets. Fee will be waived if the whole team comprises all current students of Wah Yan.
Trophies  There will be 4 winners – Champion, Runner up, Third and the Best Performing Group. They will be eligible to be invited to perform in the Night of Performing Arts on 10th July 2010. Other prizes will be awarded to the winners.
Ticket  Ticket now available at HK$100 and HK$200 each, until stock lasts.
You are cordially invited to enroll in/reserve tickets and render your support for the Gala. Please fill in the enrolment/ticket order/donation form overleaf and return it together with the fee (payable to "Wah Yan One Family Foundation Limited") on or before 15th June (for ticket) or 30th June (for enrolment). All net receipts will be appropriated to support the continuous development of the 2 Past Students' Associations and the Foundation. Please call 2511 3729/2891 9970 or email: [email protected] for more details. We look forward to welcoming you at the Gala. Come enjoy green music with your fellow schoolmates and friends!
Appeal letter/enrolment/ticket order/donation form | Poster
Media coverage: Ming Pao