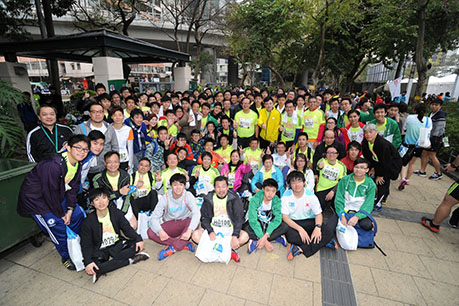 The Wah Yan One Family Marathon Team, which comprised 520 runners, have completed the Standard Chartered Marathon 10 km Run 2 yesterday. Lai Yik Chun, a friend of Wah Yan, and Yu King Chun, a WYK F.4 student, came 2nd and 10th out of 6,000 runners in the 10 km Run 2. The results were very good indeed. Wah Yan One Family Foundation ("WYOFF") would like to thank for the dedications and hard work of the runners.
A sum of approximately HK$800,000 plus has been raised so far and WYOFF will do their best to seek more donations before 28 February 2014, the cut-off date.
Attached please find the press release, the coverage on Ming Pao, Wah Yan group photo and donation form for your reference.
WYOFF would like to extend its gratitude to our students, parents, teachers, staff members, beloved Fathers, alumni and friends of Wah Yan and would like to invite them to continue to give our boys a big hand!