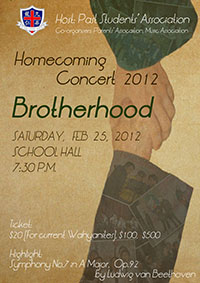 Awaiting a chance to meet your classmates and other Wahyanites? The Past Students' Association would like to introduce you the Homecoming Concert 2012 – this wonderful and meaningful event to accomplish your wish.
Homecoming Concert has become one of the most exciting annual events for all of us. With the theme 'Brotherhood', it does not only implicate the relationship between you and your classmates, but also that among all the Wahyanites, including the current students. Through this event, we look forward that the relationship among all the Wahyanites could be further strengthened..
The concert will be held on 25th February, 2012 (Sat) at 7.30 p.m. at WYK School Hall. Alumni, current students, parents and teachers are going to perform on stage. The entire surplus from the concert will be donated to the school for renovating and expanding the staff room, as the condition of it is deteriorating and it can now hardly accommodate all the teachers.
The school requires a sum of HK$700,000 to carry out the renovation and expansion plan and we would like to take this opportunity to appeal for your support. Your attendance and/ or sponsorship will not only endorse the hard work of the organizers and performers, but also play a crucial role in sponsoring the renovation project.
There is no reason to miss this double-meaning Homecoming Concert!
Please refer to the attached the ticket booking/ sponsorship form. Should you have any enquiries with regard to sponsorship and/ or ticketing matters, please contact Dr. W. H. Lau by e-mail at [email protected]. For other enquiries, please contact Miss Connie Chu by e-mail at [email protected] or by phone at 2193 5303.