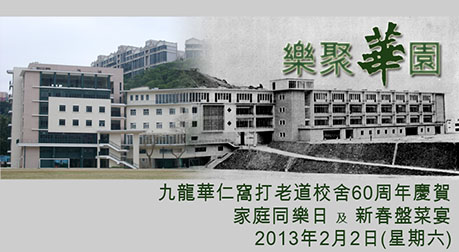 As our WYK Waterloo Campus celebrating the 60th anniversary, along with the fund-raising campaign, the Family Day and Spring Dinner will be held on 2 February (Sat). Jesuit Fathers, Teachers, Students, Parents and the Alumni since 1952 and their family members will be invited to share the happiness of the occasion.
The Family Day will be held in the afternoon on The day from 1:00pm to 6:00pm. Different sports competitions include table tennis, basketball game, orienteering, football match and etc. In addition, various Fun Game Booths will also be organized at the grass football pitch to provide different entertaining activities suitable for participants of different ages. A stage for performance of singing, dancing and etc. will also be set up at the campus.
The Spring Dinner will be held at the school hall from 6:30 pm to 9:30 pm after the end of the Family Day. This charitable dinner will be the highlight of the fundraising campaign by inviting those alumni who have studied in the Waterloo Campus since 1952 to share their half-century-old experience of studying in Wah Yan College, among other programs such as singing performance, lucky draw, cooking competition and etc. A group of alumni will also demonstrate "Naylor's exercise"!
HKD 168 each; HKD 3,000 every table (10 people). Please refer to the attached for the application. Should you have any enquiry, please feel free to contact [email protected]