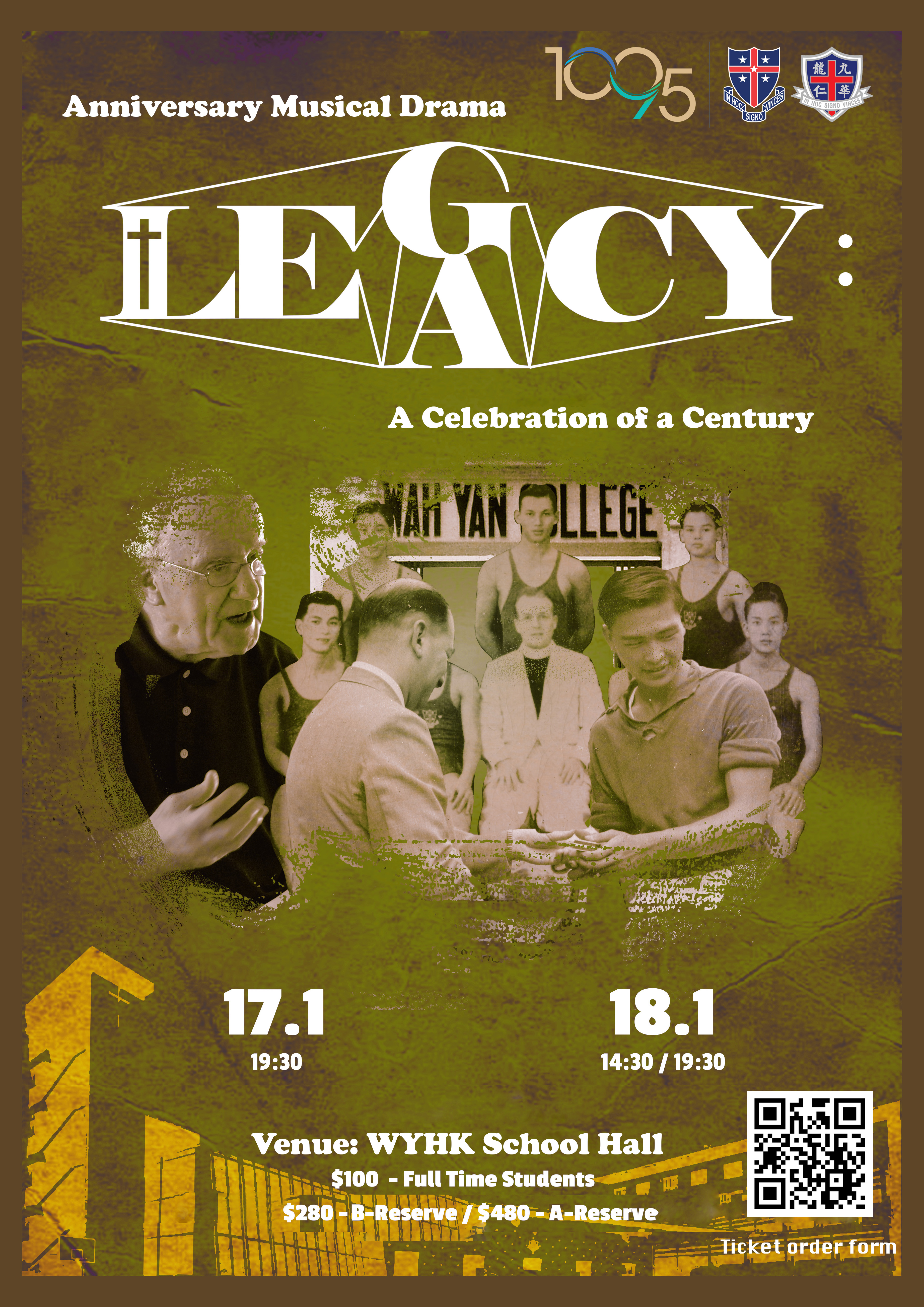 Dear Brothers and Coordinators,
Years and decades after graduating from Wah Yan, to where has life taken you?
In this 95th and 100th anniversary year, your alma mater is pleased to bring you back home for a show which takes you back in time to the heady days of your youth.
Featuring original compositions and talented performers, the Wah Yan Transcending 100 Anniversary Musical Drama, Legacy, is a joint venture between current and past students of both Wah Yans in the quest for exploring the overarching theme of Men for and with Others – the legacy of Jesuit education, where mission and traditions ma collide.
What makes you a Wahyanite – especially after all these years as you left home and spread your wings in your different professional pursuits? For an evening, or an afternoon, I cordially invite you to sit back, enjoy the show, and embrace the theme that might also be pertinent to the moment.
Feeling nostalgic already? Grab your tickets now!
Shows:
a) 17 Jan 2020 (Fri) 7:30 p.m.
b) 18 Jan 2020 (Sat) 2:30 p.m.
c) 18 Jan 2020 (Sat) 7:30 p.m.
Venue: School Hall, Wah Yan College, Hong Kong
Guest appearances (each at selected shows):
Fr. Chow S.J., Fr. Tsui S.J., Mr. Warren Chung, Dr. Davis Chan, Dr. YL So, representatives of PSA, PTA, etc.
For booking details, please refer to the attached form or visit http://wyk.edu.hk/transcending-100/ .
With best wishes,
Warren Chnug (WYK 79)
Principal
Co-producer, Wah Yan Anniversary Musical Drama
PDF version: Invitation & Ticket Order Form to Anniversary Musical Drama