Dear Wahyanites,
Re: Invitation for Donation to Annual Concert 2010 – DECAHEDRON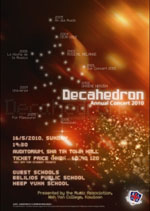 On behalf of the Music Association of Wah Yan College, Kowloon, I sincerely request for your generous sponsorship for our Annual Concert 2010 – DECAHEDRON. It has been a tradition in Wah Yan to hold a concert annually and this is the 10th annual concert held outside the school since 2001. The Music Association is honored to organise this meaningful event again. This year, we are very glad to partner with Belilios Public School and Heep Yunn School. The DECAHEDRON will be held on 16th May, 7:30p.m., at the auditorium of Sha Tin Town Hall. You are invited for donation to the Annual Concert 2010. With your support, we can then provide more Wahyanites good opportunities to enjoy the performance.
Please kindly complete and return the attached donation form to us, together with a cheque payable to "Fr. Kelly Educational Fund Ltd.", by Friday, 23rd April. Donation above $100 will be tax-deductible. Should you have any enquiries, please do not hesitate to contact TONG Terence Chak Kin, the President of the Music Association, at 9128-0507 or by e-mail at [email protected]. Thank you for your kind attention and we look forward to hearing from you. With your support, we will definitely make the concert a success.
Yours sincerely,
Mr. CHAN, Ka Hei
Teacher Advisor
Music Association
Wah Yan College, Kowloon
TONG, Terence Chak Kin
President
Music Association
Wah Yan College, Kowloon