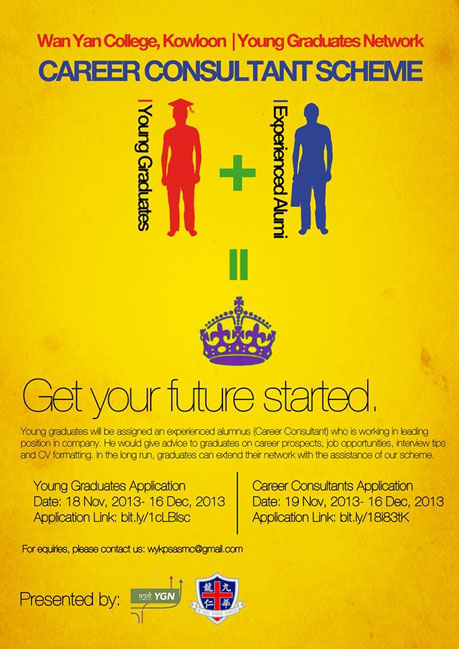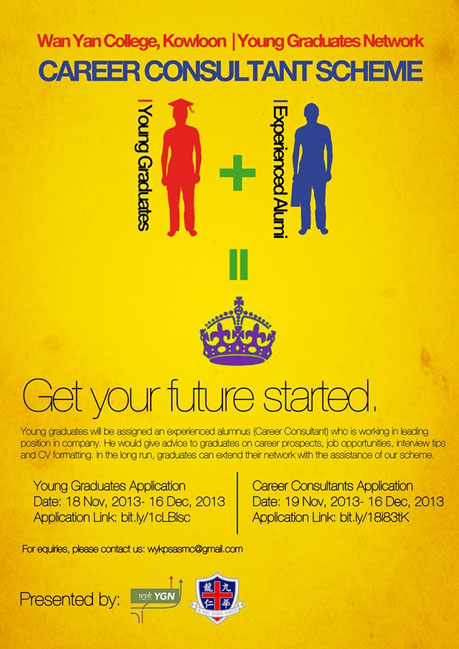 Greetings from WYKPSA Student Members' Committee. We would like to bring your attention to the first highlight of the WYK Career Series: Career Consultant Scheme!
What is Career Consultant Scheme?
Career Consultant Scheme is a program specially designed for graduates' career development. It offers a fundamental networking platform to graduates from different generations.
Young graduates participating in the scheme will be assigned an experienced alumnus (Career Consultant), who is working in leading position in enterprise. The Career Consultant would give advice on graduates' career prospects, job opportunities, interview tips and CV formatting. In the long run, graduates can extend their network with the assistance of our scheme.
Career Consultants' Background
Formed by a pool of experienced alumni, the Career Consultants come from a diverse background such as international banking, business consulting, finance, accounting, real estate, legal, medical, healthcare, engineering, architecture, media & communications, government, education & NGOs. They are in leading positions in enterprises.
How does the Scheme Run?
Both experienced alumni and young graduates are required to fill in an online application form. Student Members' Committee will match the applications according to their requirement and field.
Application Details
Career Consultant Application —
Date: 19 November 2013 – 16 December 2013
Application Link: https://docs.google.com/forms/d/1CH_tITcscsRwrQ6dBgejwzdSD1KS_xEubGNKCBYMedw/viewform
Young Graduates Application —
Date: 18 November 2013 – 16 December 2013
Application Link:
https://docs.google.com/forms/d/1Qqq21h6FhT2IlYLMWDCiANUpvpaHTvHvvC3rj4JWA3k/viewform
We look forward to your active participation, no matter you are an experienced or young alumnus. We hope this scheme can lay a strong foundation for Wahyanites in pursing their career and link up Wahyanites in different fields of work.
For updates, please refer to our Facebook Page: Wah Yan Young Graduates Network (https://www.facebook.com/wykyoungalumni)
Any enquiries, please feel free to contact us.
Let's continue our Wah Yan Bonding and Spirit!